YEs I did have another thread about this, but I want to start over to have less clutter........Im restoring my 93 KDX 250.
Here she is in all her shining glory. Stock other than a full FMF woods exausht.
Here is me throwing a nice roost in my cousins backyard. This was also one of the last times it would be ridden. It was very tempermental to start. The compression was on the low side at 130 psi, and I had suspect leaking crank seals due to tranny fluid that would need refilling every now and then, and crazy spooge.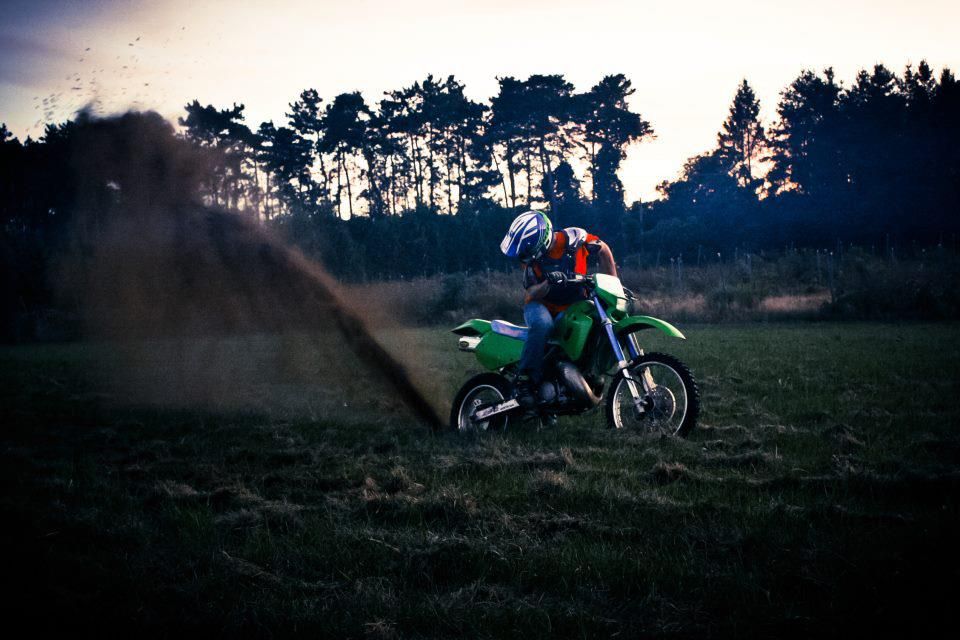 After this one evening, I brought the bike back to the gf's, went to strart it and it sputtered and died. I coulndt get it to fire. I decided to do the right thing and rebuild it. So i brought it into the garage and took the motor out, and took the top-end off.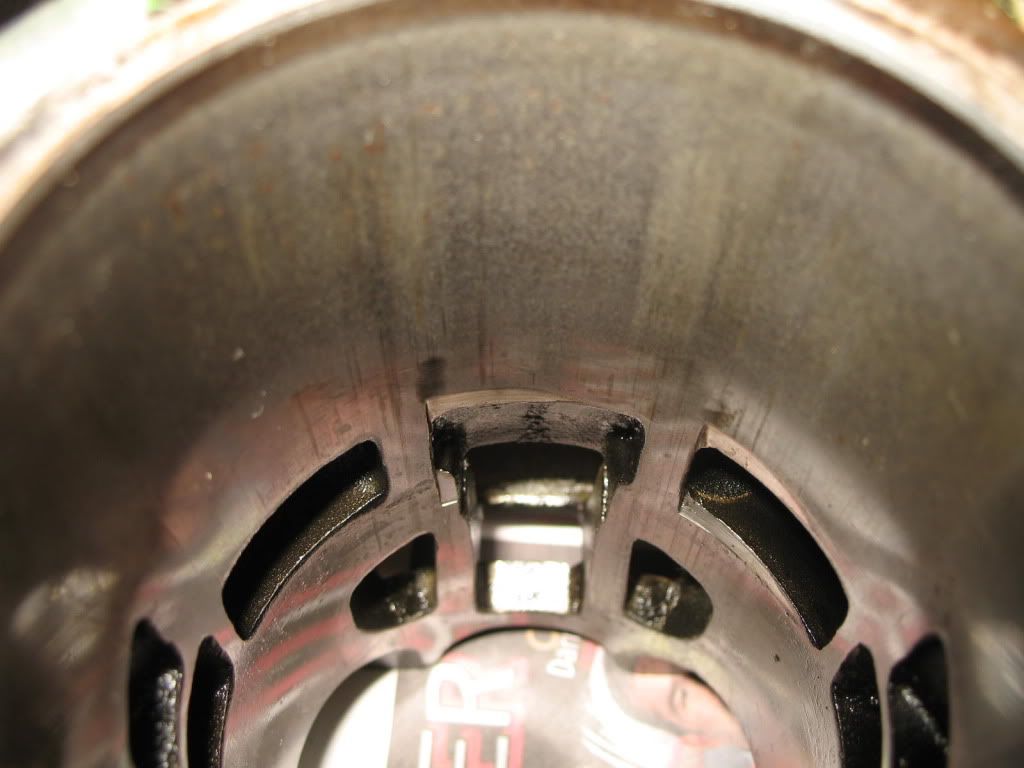 Cylinder walls. Not the best of shape, but Ive seen worse. Maybe I could get away with a quick scuff and toss in a new piston and a fresh set of rings.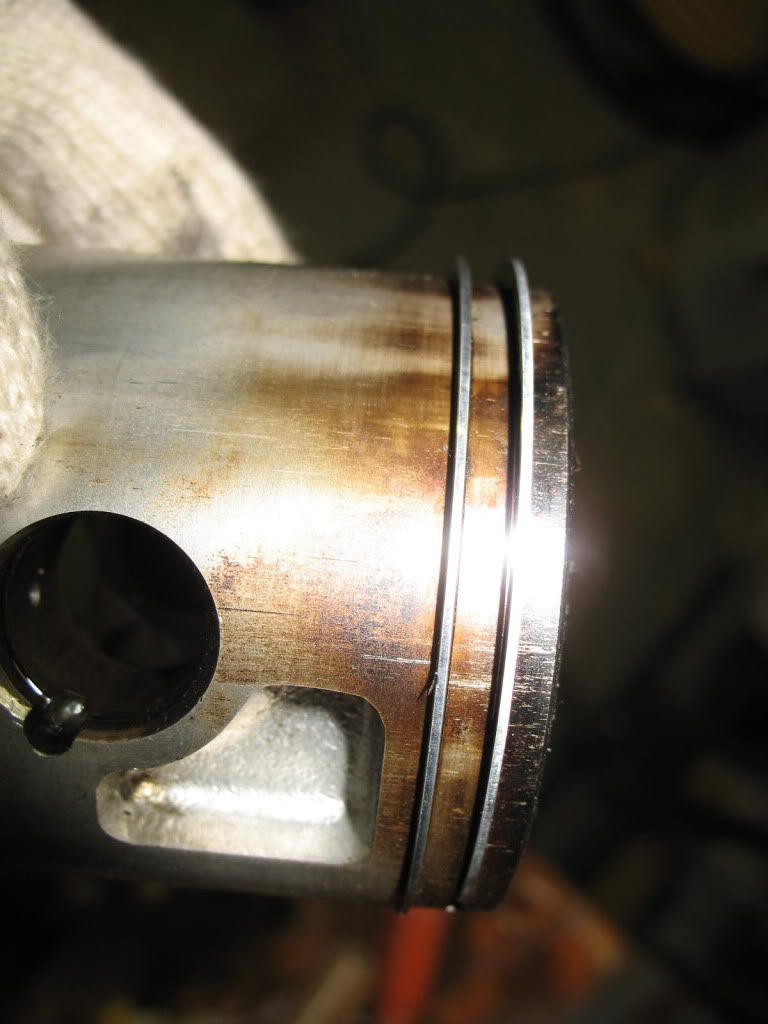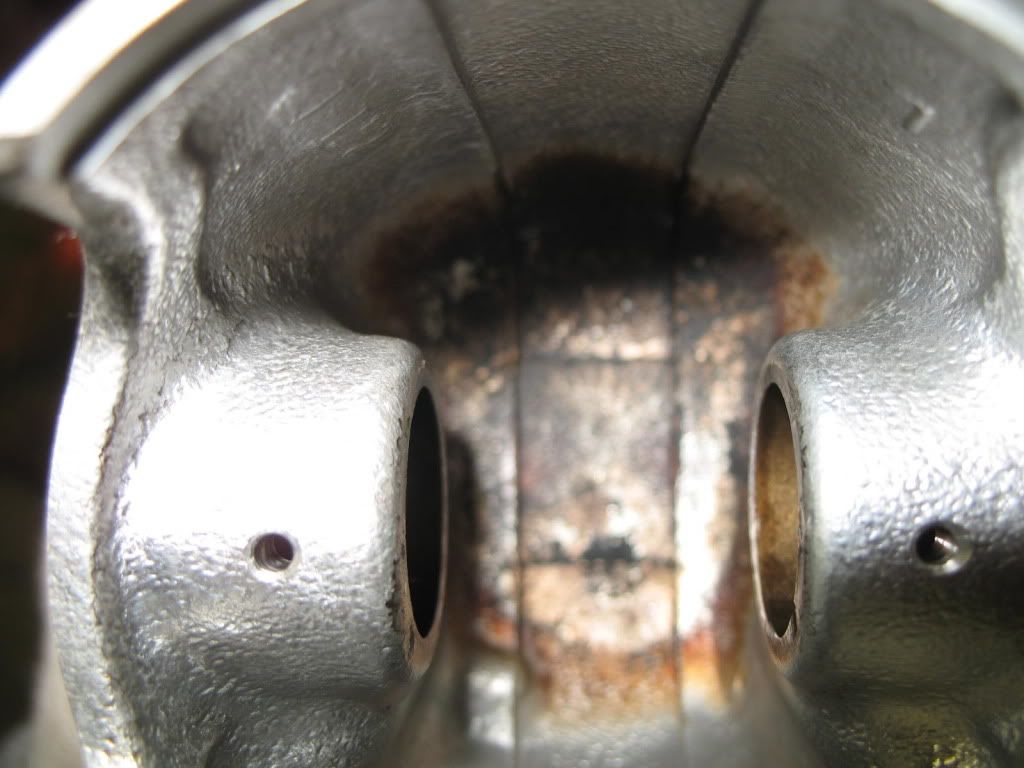 Lots of blow-by on the rings. Im assuming stock piston/rings. Bike has about 4000km on it.
So the motor. Whats going on with it you might ask?
Well, the kdx is based of a 90-91 KX 250. This bike has a smaller carb, a 5 speed wide ratio tranny, heavy flywheel, lighting coil, and a cylinder ported for lots of low-end torque and good midrange power.
Now, I love the feel of this motor, but getting the cylinder re-coated is about 300 bucks. This really is the best thing to do here.....but I bought a parts bike. a 91-kx250. It has a jug that is sleeved and ready to accept a new bore and a new piston. Rebore and hone will cost me 90 bucks. This will be most likly the route I take, as Im looking to do this on the cheap. Enough about the motor.....more on it later.
So the frame. Like I said, I bought a 91 KX 250 parts bike. Basically these were the usable parts.
-Forks. rebound and damping adjustable with stiffer stock springs. The KDX forks are garbage. not adjustability....really soft springs
-Wheels. Both look to be in decent shape...no bends. They both need new bearings though. Tons of slop.
-Plastics/gas tank. Useless to me though. I will just use the tail as that is all that fits. Will try to sell the others.
-Exaust. Pro-circuit. Little bit dented up. Cleaned up nice. It will be for sale as I want to keep my woods pipe....its in better condition and I also want to keep asmuch low-end as possible.
- Cylinder jug that has been sleeved. Next size is the final size at 68.5. Will be a 265cc motor with that piston.
- Crank. Fought a battle with a piston and looks like it won. Little scarred up but its still tight.....no up-down play and less axial play then my crank.
So. My garage two weeks ago. Getting **** ready to be sand blasted. Stripped all the old parts off the donar bike, and the project bike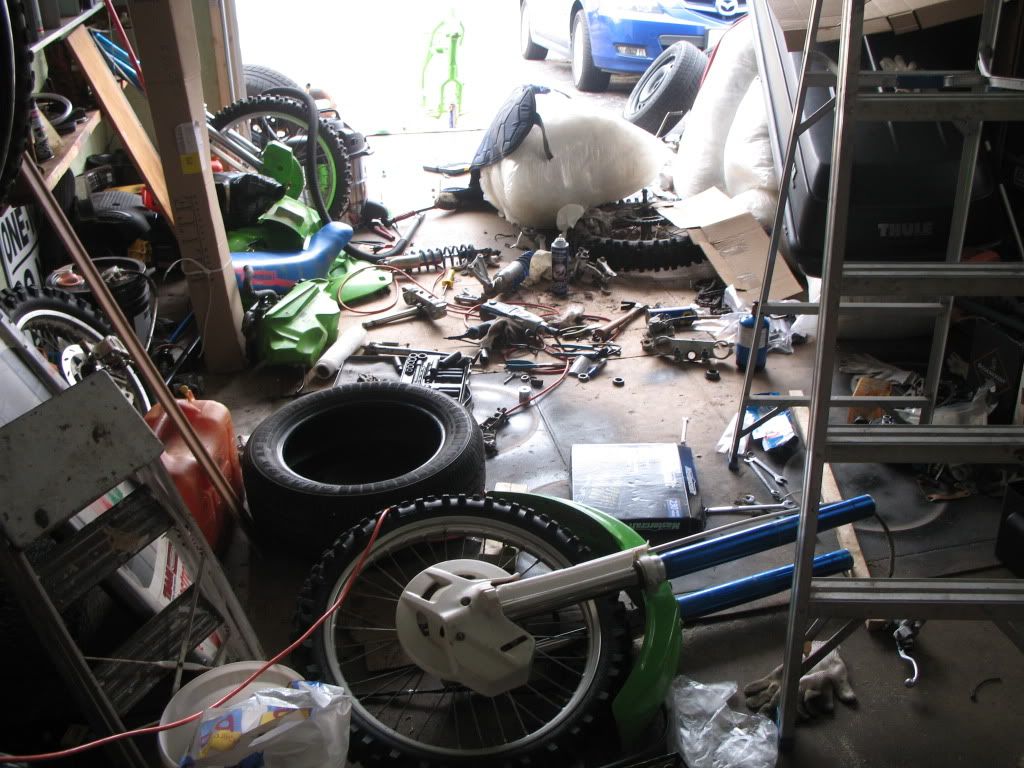 Trying to stay organized
Old KX 250 frame.....put it on the curb. This thing was ridden hard and put away wet. Mounts were busted.....aluminum re-welded...races were rusted....just a mess. And it only weighed 5 lbs less than my KDX frame. I decided to cut my losses short here.
So everythign is apart and ready to get blasted. Its so nice having access to a sand blaster
Loaded up in the back of the M3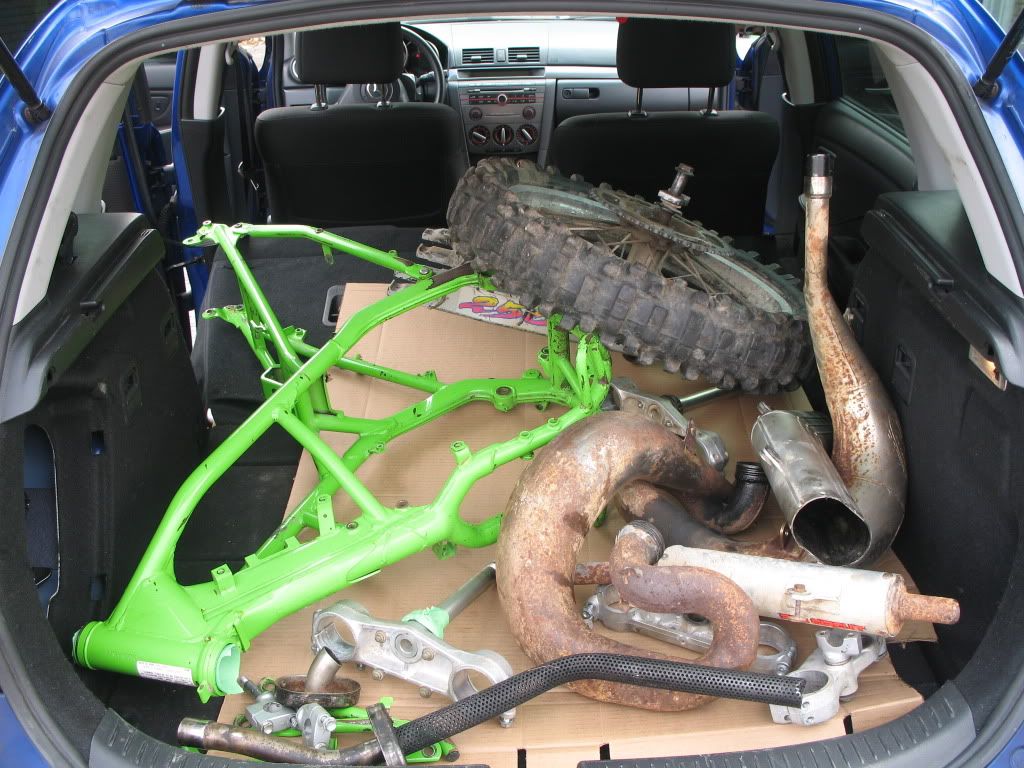 5 hours later..........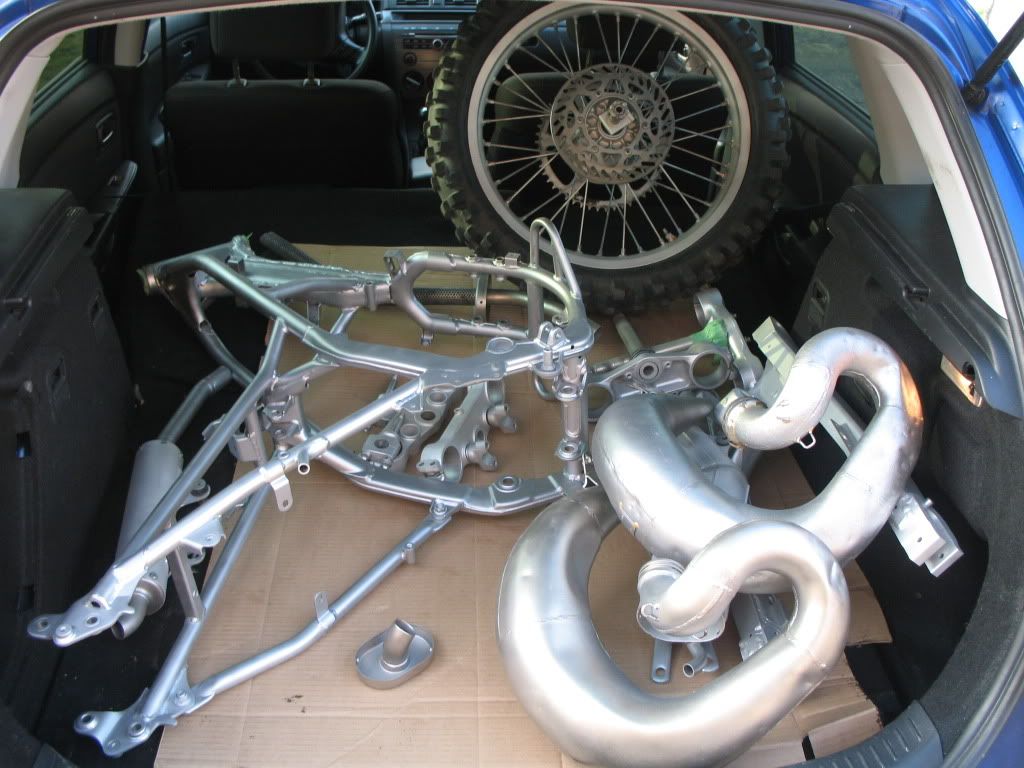 First coat of Tremclad oil based primer......
Second Coat
First coat of paint. Tremclad Semi-gloss black. They were out of gloss black. I will be doing two coats of this stuff, and then one coat of clear ontop of it. This poject is a budget rebuild, with minimal cut corners.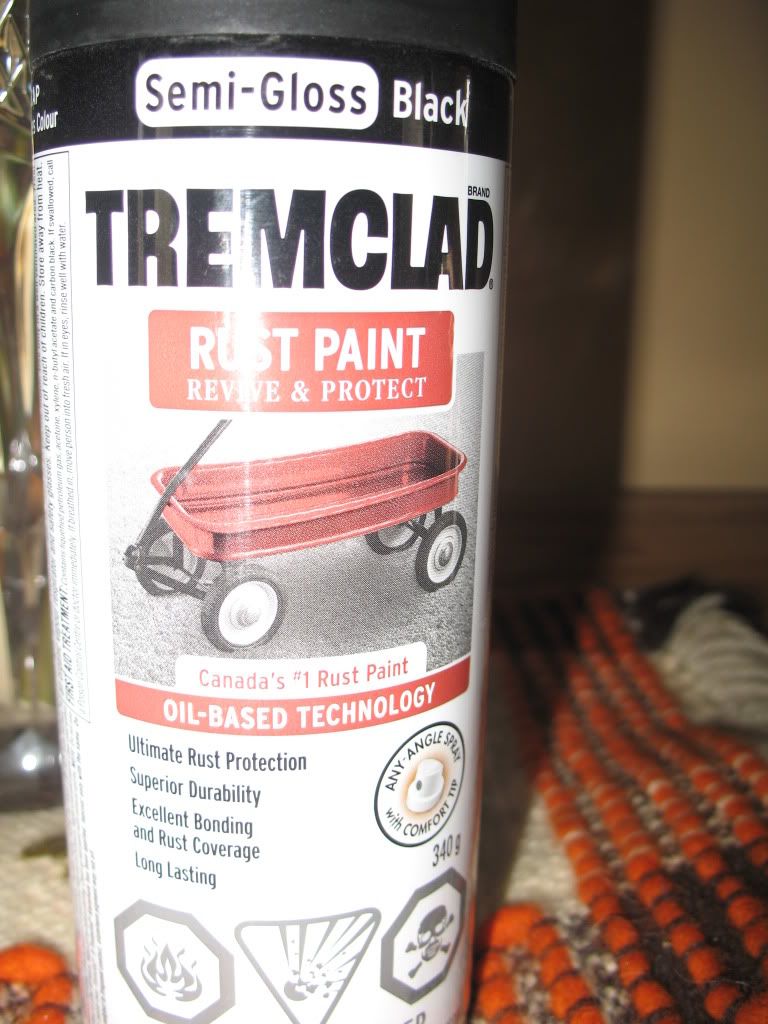 So with the warm weather, I got the first coat of paint on. 1 can was used. I also got around to cleaning up the bearing on the suspesnion linakage. The KX has different dimension on the linkage. Im sure its better, but with all the bearings being seized in it....Im not wasting my time with it. So i cleaned up the KDX one. The bearing will still good. i also gave it a light sanding with 400, 600, then 800 and some mother polish. Air dried the bearings...sprayed brake clean in...blasted with air. Once I was happy with there beign no water being in there, I packed it with wheel bearing grease and re-assembled. It works nice and smooth now.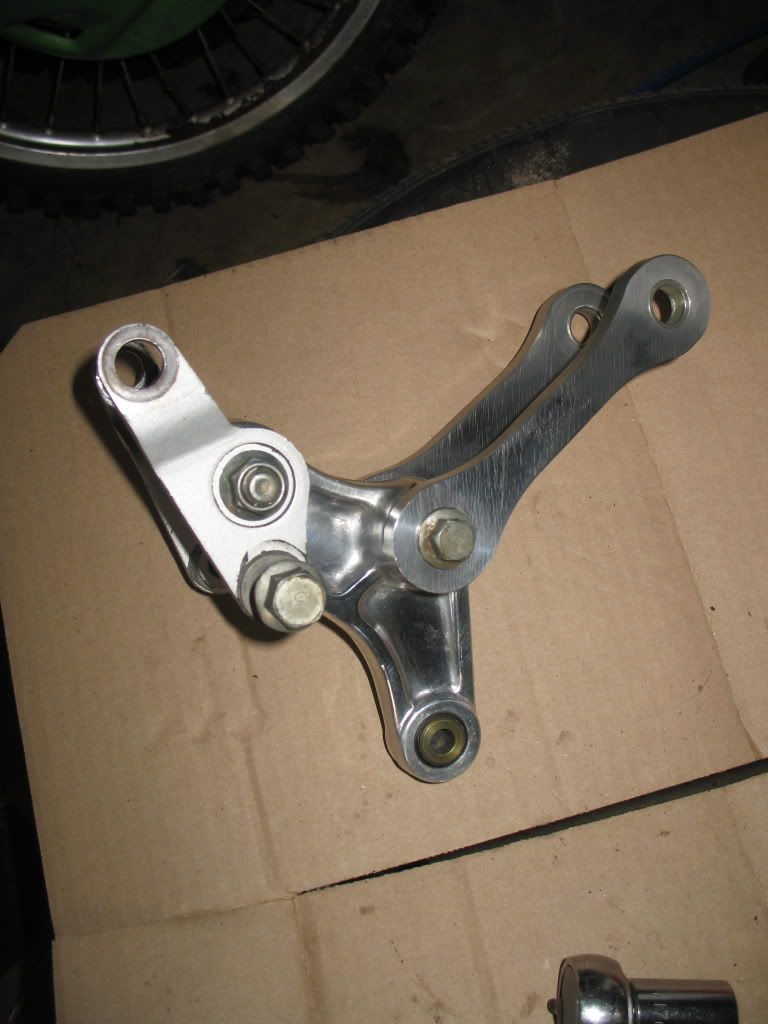 And thats where the project sits now. I have TUSK tools comming in the mail so I can work on my engine. Thats the next thing.
I will also be ordering new swingarm bearings (they were done)....polishing the rear swingarm and greasing a few more bearings on it. I will toss in the old shock. I will have spare KX shock rebuilt later this year, and ill swap it in then. At the same time I will repack the linkage bearings again and install zerk fittings.
The next two big hurtles are finsihing paint (problem is its cold again and I want the paint to dry properly), and the rebuild of the motor. (truing the crank, new crank bearings, all new seals, bore/hones, freash piston.....and ofcourse a coat of paint)
Im hoping to be riding again in two months